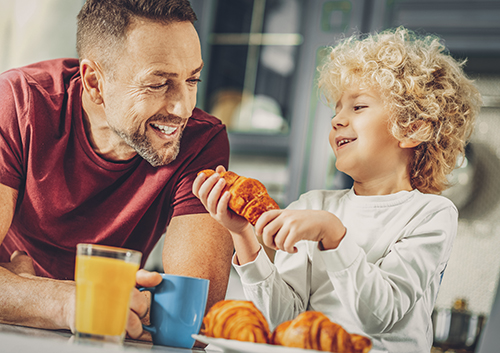 The grown-ups in your life want you to have a healthy, happy smile. That's why they help you brush and floss, and make sure you come see Drs. Peter Vogel, Vijal Vadecha for checkups and cleanings. Did you ever wonder if there are other ways you can help build a beautiful smile? There are! And one of them is eating food that makes our teeth and gums strong and healthy.
Friendly Foods
Calcium is a very important element that helps us grow strong bones and enamel, the hard covering on the outside of our teeth. Bacteria in our mouths can create acids that weaken enamel and lead to cavities, so we want to keep our enamel as strong as possible. Dairy products like milk, cheese, and yogurt are great sources of calcium, but you might be surprised to know dark green vegetables like kale, spinach and broccoli help build strong teeth as well, and strong teeth are less likely to get cavities!
Many foods have important vitamins that help keep our gums and mouths healthy. Vitamin C helps protect our gums and make them stronger. When we think of Vitamin C, we usually think of citrus fruits like oranges and lemons, but there are many other fruits and vegetables that give us this important vitamin, including mangos, potatoes, and strawberries. Vitamin A also helps keep our gums healthy. We can increase our Vitamin A by adding fish, leafy green vegetables, or orange colored foods to our diet.
Crunchy foods like apples, carrots, and celery can help keep our teeth clean. They act like gentle brushes to remove food and bacteria left on our teeth after eating. Chewing also increases saliva, which helps wash away food particles and bacteria. And, of course, drinking or rinsing with water after a snack helps clean our teeth when we can't brush.
What Foods Aren't Good for Our Teeth?
Plaque is a film of bacteria that sticks to our teeth. These bacteria make acids that soften our enamel and cause cavities. And what do these bacteria use for food? Sugar is one of their favorites! We can't stop eating everything with sugar, of course, and we all deserve a treat every now and then. But to keep our teeth their healthiest, it really helps to cut down on sugary foods and drinks, and to brush or rinse with water when we do enjoy dessert.
Bacteria can make acids that weaken our enamel, but we can also eat foods that damage our enamel and might lead to cavities. Drinks like sodas, citrus juices and even some sports drinks are acidic enough to make our enamel softer. Drinking with a straw or rinsing your mouth with water helps, but it's a good idea to limit foods and drinks that make our enamel weaker over time.
Any food that stays on or between your teeth gives bacteria more time to grow and produce the acids that cause cavities. We can guess that hard candy and caramel would be a bad idea, but even healthy foods such as dried fruit and trail mix can be a problem when they stick to your teeth. If you eat something sticky, be sure to rinse with water or brush and floss as soon as you can.
You already know that brushing and flossing are the best way to keep your teeth clean, and that visiting us for checkups and office cleanings helps your teeth and gums stay strong and healthy. Eating well is just one more thing you can do to help. The next time you visit our Anthem office, talk to us about what you and your family can add to the menu for a lifetime of beautiful smiles!
Leave a Reply