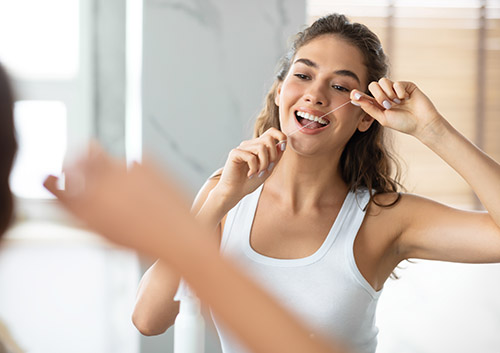 Somewhere in a bathroom drawer or medicine cabinet, we all have one—that little plastic dental floss dispenser. And whether you use your floss every day (yay!), or have completely forgotten it was in there (not so good), just how much do you know about that sturdy string? Let's find out!
Flossing has been around for hundreds of years.
FACT: It's been just over two hundred years since Dr. Levi Spear Parmly, a dentist in New Orleans, suggested his patients use waxed silk thread to clean between their teeth. This is considered the first "official" invention of dental floss, although using some form of tool to get rid of food particles between the teeth has been around since prehistoric times.
Brushing well is the same as flossing.
FICTION: It's really not. While brushing does a great job of cleaning food particles, plaque, and bacteria from your enamel, there are some places those bristles can't… quite… reach. Floss was designed to clean plaque and food from between the teeth and close to the gum line where your brush doesn't fit.
There's more than one way to clean between your teeth.
FACT: Indeed there is! Not only are there many varieties of dental floss (waxed, flavored, round, flat, thick, thin, in a dispenser, attached to miniature floss wands), but you have alternatives if using any kind of floss is difficult for you. Water-flossers direct a pulsing stream of water between and around the teeth and gum line to remove food particles and plaque. Another useful alternative is the interproximal brush, a tiny little cone-shaped brush designed to remove food and plaque from those hard-to-reach spots.
Flossing helps prevent gum disease.
FACT: Scientific studies haven't provided definitive answers. But Drs. Peter Vogel, Vijal Vadecha and our team strongly recommend daily flossing as one of the most important things you can do to prevent gum disease. Gingivitis, or mild gum disease, is caused by irritated, inflamed gum tissue. Gum tissue becomes irritated and inflamed as a response to the bacteria, plaque, and tartar, which stick to your teeth. Anything you can do to help remove these irritants will reduce your risk of gum disease.
Flossing helps prevent cavities.
FACT: We strongly recommend daily flossing to remove the food particles and plaque, which lead to cavities. Brushing removes cavity-causing plaque from the outer surfaces of your teeth. But there's a lot of enamel between your teeth as well. Flossing removes plaque from these hidden spots, helping to prevent interproximal ("between the teeth") cavities from forming.
Bleeding when you floss is normal.
FICTION: Bleeding isn't a typical reaction to flossing. Bleeding gums could be an early sign of gum disease caused by plaque and tartar buildup. On the other hand, if you floss too hard, or go too deeply below the gum line, you can make delicate gum tissue bleed. Ask Drs. Peter Vogel, Vijal Vadecha for tips on perfect flossing technique.
You need to floss after every meal.
FICTION: Dental professionals generally recommend brushing twice a day and flossing at least once each day. But this suggestion comes with some exceptions. If you have braces, your orthodontist might recommend flossing after eating. And certainly, for removing pesky food particles, flossing or interdental picks are a sensible choice after any meal.
Your dentist will never know that you haven't been flossing.
FICTION: Nope. Sure, you can miss flossing a few times and catch up before your appointment at our Anthem office. But built-up plaque between the teeth, red, swollen, or bleeding gums, and gingivitis and interproximal cavities let both you and Drs. Peter Vogel, Vijal Vadecha know that you've been neglecting good dental habits.
It's never too late to start flossing!
FACT: Flossing is a simple, quick, and inexpensive way to maintain tooth and gum health. If you haven't had much luck flossing in the past, ask Drs. Peter Vogel, Vijal Vadecha for flossing tools and techniques that will work for your specific needs. Start now, and see what a difference it will make at your next checkup!
If you had all these flossing facts at your fingertips, congratulations! But if you didn't, no need to worry, because the real test of your knowledge is in its application. Flossing properly at least once each day will give you something far more rewarding than blog-quiz kudos—you'll see that regular flossing rewarded with healthier teeth and gums!
Leave a Reply